2019 Runs
Jan
51
Feb
73
Mar
78
Apr
56
May
57
Jun
60
Jul
57
Aug
61
Sep
54
Oct
69
Nov
31
Dec
Total
647
Past Incidents
2018
766
2017
790
2016
708
2015
641
2014
553
2013
469
2012
522
2011
542
2010
586
2009
540
2008
524
Web Counters
Website Visitors
Since
December 1, 2014

Visitors Today
Dec 16, 2019

National Weather Service Alerts for Northampton County, PA
PLEASE NOTE: This year we are asking each family dropping off a gift for delivery to ALSO bring a canned food good for our 2019 food drive.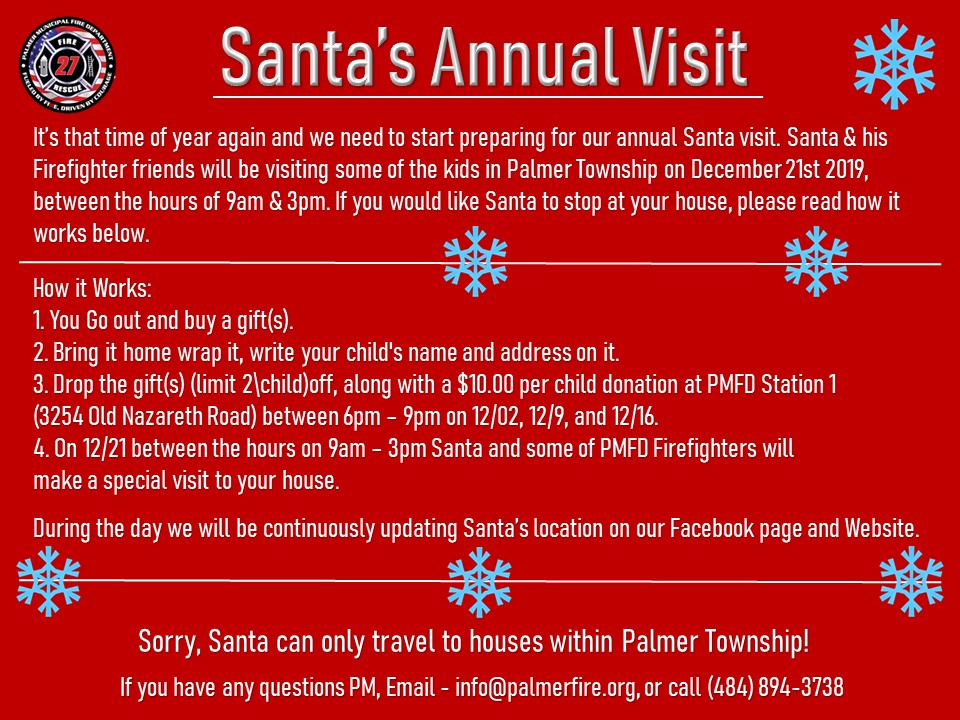 Flooding After Heavy Rains

Battalion Chief Ken Sobieski, August 05

On Friday evening into Saturday Morning the region received nearly 3.5" of rain during the overnight hours. Lucky the rain stopped shortly after 8:00am. Although, Palmer had a few calls for flooded basements, and fire alarms we were generally quiet.

Pictures were take on Stockermill Road near Bushkill Drive in Forks Township.... (Full Story & Photos)

Charging Station Fire - Amazon Warehouse

Battalion Chief Ken Sobieski, July 27

On 7/26/2018 @ 9:07pmthe PMFD was dispatched to Amazon on Van Buren Road for the reported fire alarm and smoke condition. While enroute crews were advised of a working fire and 15 Fire (Hanover Township) was added for the RIT assignment. Battalion Chief Sobieski arrived on scene and advised of a heavy smoke condition within the building. Assistant Chief Alercia arrived shortly after and established ... (Full Story & Photos)


Car Fire - 25th Street Shopping Center

Battalion Chief Ken Sobieski, July 19

On July 19th 2018 at approximately 21:30 hours PMFD and Suburban EMS were dispatched to the 25th Street shopping center for the reported car fire. As units were responding County updated that the vehicle had struck a mattress on Route 22 and now was on fire. 27-53 arrived on scene shortly after dispatch and confirmed smoke showing, 27-51 arrived shortly after and established Command. Engine 27-11 ... (Full Story & Photos)

Truck to Forks for a Dwelling Fire

Battalion Chief Ken Sobieski, July 04

On Tuesday July 3rd the Palmer Municipal Fire Department was requested into Forks for the working Dwelling fire. Shortly after dispatch 27-21 staffing 6 responded. After arriving on scene members were instructed to assist 27-50 (Commissioner Gallagher) with opening up and doing a secondary search, looking for missing pets. Once the fire was placed under control 27-51 (Asst Chief Alercia) assisted ... (Full Story & Photos)

Thank You for Your Support!!

Battalion Chief Ken Sobieski, July 02

The Palmer Municipal Fire Department would like to extend a big thank you to Hicks Paving Inc. https://www.hickspavinginc.com/ and Second Alarm Tree Service. Both local companies offered their expertise and service for free to give back to the fire department when we were in need of help. Recently a few members went through a 4 day "train the trainer" EVOC course for our new tiller truck. The parking ... (Full Story & Photos)

Your feedback is important to us! Feel free to sign the guestbook.