2017 Runs
Jan
59
Feb
48
Mar
62
Apr
63
May
66
Jun
83
Jul
81
Aug
78
Sep
46
Oct
Nov
Nov
Total
586
Past Incidents
2016
708
2015
641
2014
553
2013
469
2012
522
2011
542
2010
586
2009
540
Web Counters
Website Visitors
Since
December 1, 2014

Visitors Today
Sep 23, 2017

Click HERE to View active Northampton County Incidents
Click Here to Schedule a visit from the PMFD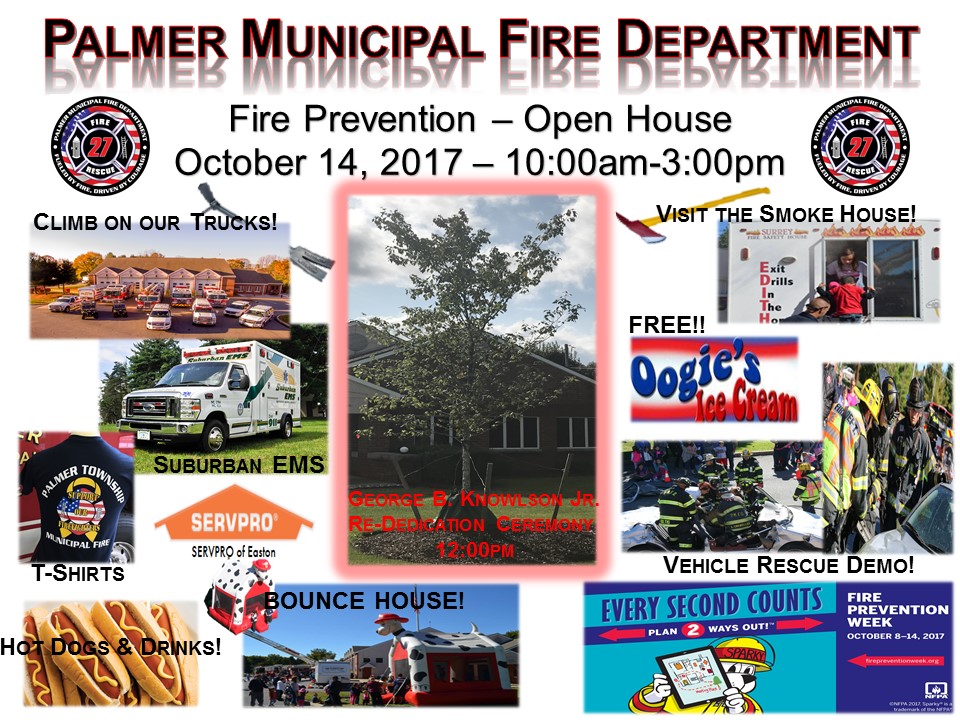 PLEASE VOTE FOR THE NEW AND IMPROVED PALMER POOL
The Township's Computer Software provider, Dallas Data Systems, is running a Commitment to Community Competition for area charitable or community projects that help to improve and serve their communities.
Dallas Data Systems will be awarding the following grants to the most vote getters: 1st prize - $2,500, 2nd prize - $1,500, 3rd prize - $1,000.
Individuals can vote once per day from each of your electronic devices now through October 15, 2017.
2007 Pierce Enforcer Pumper with 400 HP Caterpillar C9 Diesel Engine, Allison 3000 EVSP 4th Generation Automatic Transmission, 1500 GPM Waterous CSU Pump with 700 gallon tank, Husky 12 Foam System with 30 gallon tank, seating for six with five SCBA pack seats. LOW MILES (23,873). Preventive Maintenance up to date. Pump Test current.

Length = 30'-11.75"
Height = 10'
Wheelbase = 202.00"
GVWR = 46,500

Additional Features:

Three crosslays (one 2.5" and two 1.75")
One 2.5" Driver Side Discharge
One 2.5" and One Large Diameter Discharges on Officer Side
One 6" to 4" with Task Force Tip Intake Valve on Driver Side
One 6" Intake on Officer Side
Deck Gun
Booster Reel in rear compartment
Harrison 10 KW Hydraulic Generator
Electric Reel in Rear Compartment
Light Tower
Air Conditioning
AM/FM Radio
Arrowstick
Automatic Tire Chains
Federal Q Siren
Interior Cab EMS Compartments (2)
Jake Brakes
David Clark Intercom System
Hose Bed Cover
Two Hard Suction Hose Lengths
Compliment of Hurst Tools (Combi Tool, Cutter, Hydraulic Hoses, Pump)

Asking Price = $350,000

Contact the Fire Commissioner at 610-559-9809 for all enquires

CLICK HERE FOR LARGER IMAGES

Girl Scout Cookie - Donation

Battalion Chief Ken Sobieski, February 27

The Palmer Municipal Fire Department would like to thank Samantha Bast, daughter of Chief Bast of the Easton Fire Department for the donation of Girl Scout cookies. Samantha is a member of Brownie Troop 883 and on Monday night prior to drill dropped off the donation.

Thank You for thinking of us Samantha

If anyone is interested in buying from Samantha please contact the Fire Commissioner at sgallagher@palmertwp.com.
... (Full Story & Photos)

PMFD Food Donations

Battalion Chief Ken Sobieski, January 11

PMFD is committed to assisting people in need, whatever the emergency may be. Recently the staff turned their attention to a local food bank to assist them with providing food to the less fortunate. In November each staff member was asked to donate one can good item, by bringing that food item to each Monday training night.

Today staff delivered 207 pounds of donated food to Second Harvest Food ... (Full Story & Photos)

Another busy month!

PMFD Web Administrator, December 09

Another busy month!

10 Days into the final month of the year the PMFD has responded to 26 calls for service, bringing our total for the year to 664.

On Friday December 9th 2016 the Palmer Municipal Fire Department was dispatched to the 4000 block of Green Pond Road (Palmer Township) for the reported detached garage on fire. Crews arrived to find a 3 car garage heavily involved and partially collapsed. ... (Full Story & Photos)

4 Days 23 Calls

PMFD Web Administrator, November 19

Over the last 4 days the PMFD has responded to 23 calls for Service. As a volunteer company this increased volume of calls puts a huge demand on our membership and we would like to Thank them for their continued dedication. We would also like to Thank Ashley Mesco who was called at 2:00am this morning as we operated at a prolonged operation on route 22. Ashley ran to the store and arrived on scene ... (Full Story & Photos)

Your feedback is important to us! Feel free to sign the guestbook.